13 Aug

How Language Strategy Plays a Key Role in Your Business
So here's a scenario: Your business takes a tremendous leap, you have talented people on board from around the world that brings diversity and certain skill sets in the workforce. You've worked extremely hard to engage and retain required millennial and is now the largest generation group – a perfect competitive global business in the 21st century.
This, however, cannot be assured a success in today's global marketplace, not so fast! Today's successful business management consultants need a language strategy.
It doesn't matter which industry does your business interest lie, a comprehensive strategy for managing language challenges contributes in transforming the underlying vulnerability, usually arising in global business, into a source of competitive advantage – which is an integral part in talent management.
Quick Question: When it comes to greater opportunity, efficiency and collaboration, have you been ignoring critical shortcomings in client relations because of specific language challenges? There's a tangible benefits of implementing language strategy across the business, certainly responsible for more collaborations, efficient communication and fetching more business to the business leaders.
Here's how adopting language strategy plays a vital role in business:
Improve productivity:
Studies suggest that 90% senior business leaders do recognize language challenges their company faces in day-to-day encounters. This is problematic as the business may have to suffer from less productive relationships, longer resolution time for client support, and abundant stress levels across the employees. It's proven that despite this knowledge, only one in three executive advisory boards and senior leaders in a company engage Human Resources in order to resolve the issue. Breaking the barrier and developing a language strategy can help foster a better workplace, more collaboration, and increase in team loyalty – all factors leading to more and improved productivity.
Astounding competitive edge for your business:
Adapting language skills unlocks a world of potential business growth opportunities. A recent survey conducted on 1,900 employees from more than 300 companies from customer service and sales filed globally, reads that language training enables them to serve a better number of clients and that learning a language has made them more efficient at their respective jobs. Therefore, when it comes to bringing more business to companies, language skills play an essential communication tool by building new relationships and strengthening the existing ones with better feasibility – giving an astounding competitive edge to your business.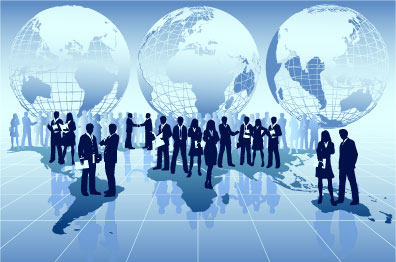 Creates a global business:
The global economy of today is increasingly multilingual and multicultural. A company treats language skills as a highly valuable commodity and is extremely open to hiring an individual with better language ability externally for international positions. This creates an opportunity for a major and cohesive global business.
Develop more business leaders:
In order to thrive in today's marketplace; one must have the right skill ensuring a company's future growth. Language strategy can help prepare employees to work with a diverse workforce and develop key future business leaders.
Organizations using language strategy effectively alongside their global talent management process gain more elevation to stay ahead of competition.